About our Scanning Services
Terrapin Works has a variety of scanning tools that can be used to develop a 3D CAD model.  A 3D scanner takes non-destructive measurements of a target object to digitally reconstruct its shape and in some cases texture.  A 3D scanner outputs a point cloud, or a series of points in 3D space, that correspond to the surface of the target object.  Further post-processing can turn this point cloud into a mesh, or a digital surface composed of triangles.  Computer aided design (CAD) software can import this mesh for use in further design and slicing software can turn this mesh into g-code for 3D printing.
Contact us to inquire about a project: terrapinworks@umd.edu.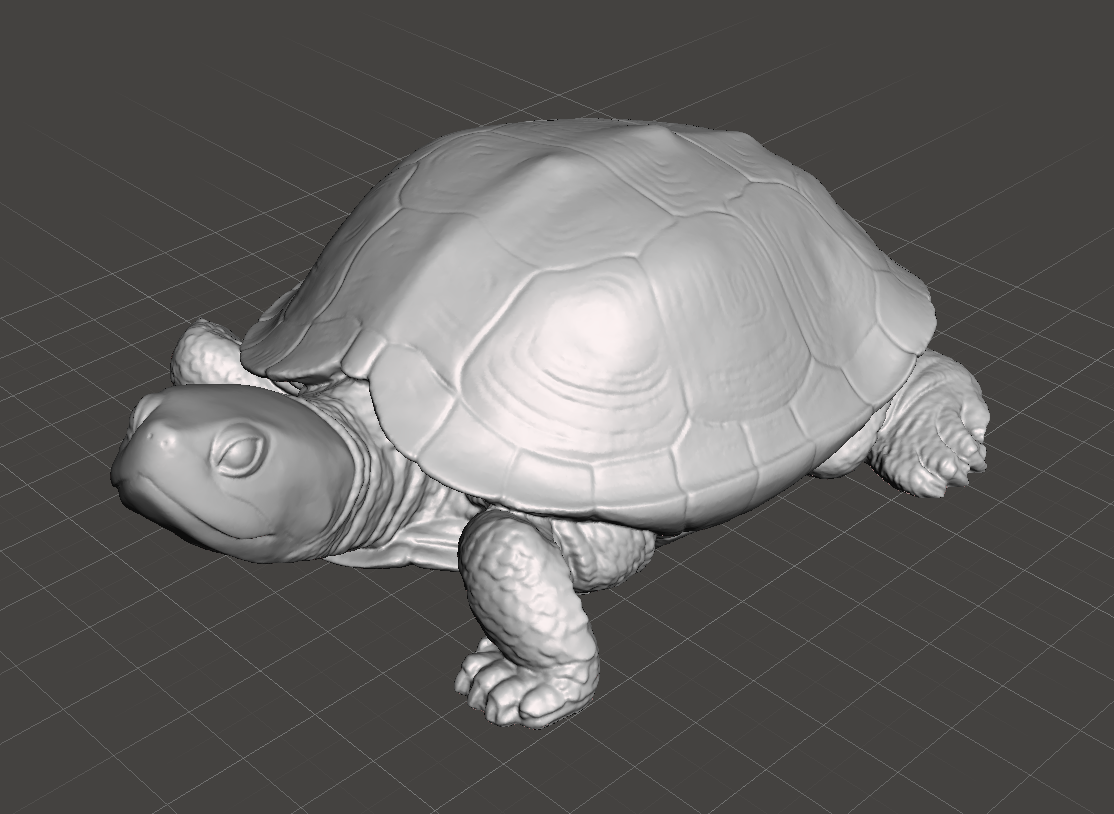 Who are our Scanning Services for?
If you have a physical part and need a 3D CAD model, our scanning services might be for you. 
UMD students have access to our scanning equipment when our labs are open.  We provide basic training for students to use the equipment on their own.  Students and Competition Teams can also hire our staff to provide scanning services for more complex jobs.  Contact us for a quote.
Terrapin Works offers scanning services to members of the community.  Customers can provide a physical part and our student staff will scan it to generate a point cloud.  We will perform post-processing using licensed software and output a 3D file in .STL format.  Scanning jobs are quoted before acceptance and billed at an hourly rate.
Faculty and staff members who are interested in borrowing scanning equipment for use in research or by students in curriculum should contact Terrapin Works for pricing on short-term rental.
Why Scan?
Scanning is a helpful tool in reverse engineering and first principle design.  3D scanning enables rapid translation into digital models, accelerating the process of reverse engineering.  Meshes produced from 3D scans provide accurate dimensions of the target objects.  The software used to post-process 3D scans can be directly exported to CAD software.
Organic shapes, like human body parts, pose significant challenges to recreate in CAD.  By directly and rapidly digitizing these shapes, 3D scanning enables the design of parts intended to accommodate unusual or complex geometries that are otherwise difficult to model.  Other applications of 3D scanning include digitizing artifacts or fossils and capturing an entire room interior for redevelopment planning.
Not all objects need to be scanned to generate a usable CAD model.  We receive many requests for simple geometry that can be quickly and easily developed from scratch in CAD software.  If it's faster to take direct measurements of a part and model it, we will be happy to quote that service through the Design Team.
Scanning services at Terrapin Works cannot be used to generate copies of someone else's proprietary work with the intent to profit.  We will not scan items that are protected by patents if you intend to produce similar products for sale. 

Resources
We have advanced scanning equipment and processing software at our disposal.
How to Request Scanning Services
Reach out to us by email or in person.
When you email us, tell us a little about the item you would like scanned.  We will need to know a few details about your project before we can provide a quote for scanning services.  How big is the part?  What material is it?  What color is it and does it have a texture?  Are there any small holes or internal features?  What do you intend to do with the scanned data?  Include a photo to help with this discussion.  We usually respond to your inquiry within 24 hours.  We might ask additional questions or schedule a time to talk. 
Visit us in person
Students, Faculty, and Staff can visit us in the Advanced Fabrication Lab (AFL). Let one of the employees there know you are looking for scanning help.
Learn about the scanning process
We've created a short informative video to illustrate the scanning process.
Top