On This Page:
---
The purpose of this page is to give a rough estimate of what price range you should expect for each of our services. You will find examples of requests and their costs. The pricing of a request is more often than not complex and reliant on a number of variables that can not be known until we have one of our staff evaluate it. For services that have simple pricing, all the details will be on this page, for the rest you will need to use an alternative method to estimate the cost of a request. 
If you wish to get a more precise cost estimate and you know some details about your request (e.g. mass for 3D printing) you can use our job management software PaperCut (more info below) to get an estimate of the cost of that request. Alternatively, you can contact us and ask for a quote by emailing terrapinworks@umd.edu; one of our technicians will give you an estimate.
Contents
---
How to Pay for Prints and Services:
---
Pay in person with a credit / debit card or Terrapin Express at one of our lab locations.
Set up a payment account in PaperCut:

Personal accounts using a credit / debit card

Members of the UMD community can deposit funds using a credit / debit card in PaperCut:  http://ter.ps/addfunds
Guests outside of UMD should follow the instructions to set up an external account in PaperCut:  http://ter.ps/guestpc 

Please note, there is an approval process that could take 24-36 hours.  Check your email to confirm the account creation and continue to the next step.  Once the guest account is created, deposit funds in Webcashier:  http://ter.ps/addfunds 

Shared accounts for research / departmental spending - KFS

To set up a new KFS account or to add users to an existing account, visit ter.ps/payviakfs
 You must set up your KFS account with us prior to requesting services. We have an approval process that requests pre-authorization from the responsible party prior to setting up the billing relationship. We are not able to bill to KFS accounts you specify until you have access to them in PaperCut.

Accounts at other agencies in the State of Maryland or institutions in the University of Maryland System - R*STARS

We accept interagency payments via the R*STARS system. Submit your order as you normally would through PaperCut. When your order is ready for pickup, ask our staff to send you an invoice using R*STARS as the payment method.
Our staff will need the following information to process your payment via R*STARS.

Your name and email address (agency or institution email only please).
Contact information for your business office (name, email, department within your agency or institution).

When we confirm payment via R*STARS was successful, you can pick up your parts. Please bear in mind that payment via R*STARS typically takes several days to complete.

Pay by Check (made payable to University of Maryland with memo notation Engineering IT)
We do not accept cash.
We are unable to process credit card payments over the phone.
Item purchases are subject to Maryland's 6% sales tax.
Use PaperCut for Cost Estimates:
---
The service we use for placing requests/orders allows for cost estimates. This is mostly useful for 3D print requests. Services that charge per hour often can not be precisely determined until the service is complete.
Instructions for how to generate a cost estimate of a 3D print on Papercut:
If you know the approximate mass of a print, please visit our job request system and search for the machine you plan to order a print on. Clicking on the machine will open up a dialogue that allows you to fill out the details of your order. Selecting the material you wish to use, and entering an approximate mass, will allow you to get a live estimate for the cost of the print. The cost will vary with the exact mass of the final print, printer settings, and printer-specific processes.
Have an approximation of the mass of your print ready
Go to our order platform PaperCut (same link as button below)
Sign in with DirectoryID and password (the beginning of your terpmail email, but without @terpmail.umd.edu)
Look for the printer that you wish to use (Ctrl + F helps)
Hover over the image of the desired printer so that the "Start Order" button appears
Click "Start Order"
Fill out material and mass in the form that pops up
Look in the upper right hand corner for an approximate cost breakdown
GO TO PAPERCUT AND ESTIMATE COST
3D Printing:
---
Scale Testudo Statue for Cost Estimates
Calculating the cost of a print can be difficult as there are many factors that go into its creation (e.g. material, time spent preparing the file, mass of the print). For reference, we have calculated the cost of a testudo statue (pictured right) of a size of 54mm x 71mm x 69mm (2.1 in x 2.8 in x 2.7 in) as printed on each machine at default settings. Values can be found in the tables below. 
This is meant to serve as a "ball-park" estimate for your orders.
Note: For machines with an asterisk* after the name, a smaller-sized print was used.
Note: Colors used below are only examples.  Visit go.umd.edu/submit or contact us to see what color options are available.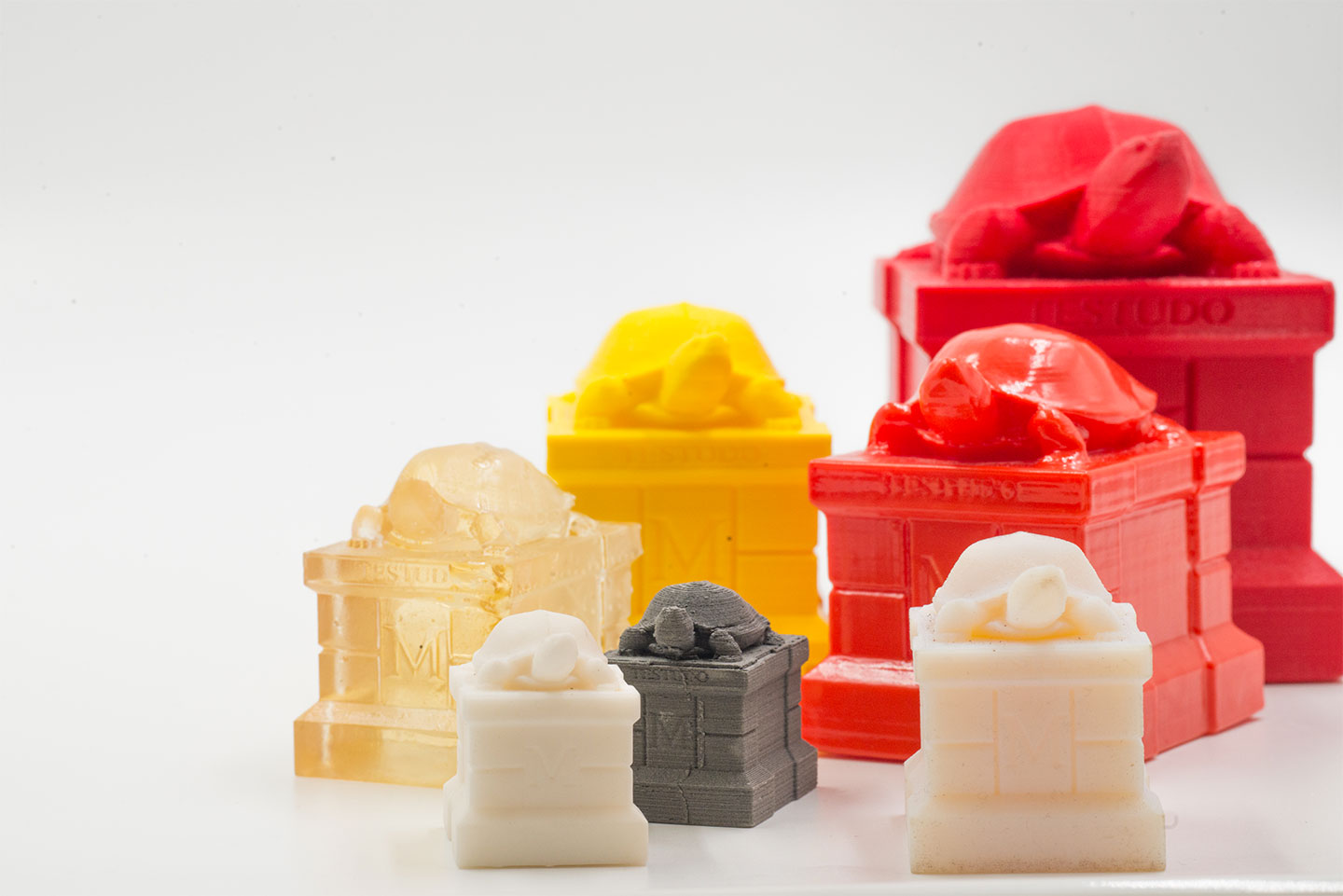 Basic 3D Print Requests
---
Fast and Affordable Prototyping
(For full list of color options for each printer visit go.umd.edu/submit)
| Fabrication Method | Material | Price per gram | Price of one Standard Testudo | Image |
| --- | --- | --- | --- | --- |
| Consumer Grade 3D Printer | PLA | $0.10/g | $5.83 | |
| Consumer Grade 3D Printer | Cheetah (Flexible PLA) | $0.20/g | $6.80 | |
Cheetah, semi-flex, ninja-flex : $0.20/g
Glow in the dark : $0.10/g
Advanced 3D Print Requests
---
Variety in materials and technologies
(For full list of color options for each printer visit go.umd.edu/submit)
| Printer | Material | Price of one Standard Testudo | Image |
| --- | --- | --- | --- |
| Dremel 3D45 | Polysmooth | $12.67 | |
| Formlabs Form 2 | Clear V4 Resin | $64.70 | |
| Formlabs Fuse 1 | Nylon Powder | $13.50 | |
| HP Jet Fusion 580 | HR CB PA 12 | $38.49 | |
| MakerGear M3 Independent Dual | PLA | $12.08 | |
| Markforged Mark Two | Onyx | $76.50 | |
| Nanoscribe Photonic Professional GT+ * | IP-S | $152.00 | |
| Prusa MK3S | PLA | $11.70 | |
| Raise 3D N2 Plus | PLA | $8.34 | |
| Stratasys Fortus 400mc | PPSF | $107.88 | |
| Stratasys Objet 30 | Vero | $72.70 | |
| Stratasys Objet 500 Connex3 | Vero + Agilus 30 + MED610 | $140.13 | |
| Ultimaker 3 | PLA | $12.08 | |
| Zortrax M200 | HIPS | $5.20 | |
| Zortrax M300 | HIPS | $3.80 | |
| 3D Systems ProX DMP 200 * | Inconel | $613.40 | |
Subtractive Manufacturing
---
Metalworking
---
Comissioned Service:
Standard ordering of work to be done on metal parts. Performed by TW staff.
When service is provided by a TW technician
Machine
Cost
Protomax WaterJet
$25.00/hr + $1.00/lb of garnet
EZ Router
$45.00/hr
All other hand operated and CNC machines
$45.00/hr
Self Service:
Most metalworking  machines are allowed to be used by students themselves with adequate training (only appies to hand-operated machines, not CNC). Reserving equipment is required.
When machine is reserved and used by trained student themselves
Machine
Cost
All manual/hand operated machines
FREE
Woodworking
---
Coming soon!
Design Services
---
Contact us for a quote! Email: terrapinworks@umd.edu with information about your project.
Scanning Services
---
Scanning projects are a complex process and need to be evaluated case by case.
Minimum charge of $25, contact us for a quote [insert link]. 
Electrical Services
---
Use of our electronics equipment in the Instructional Electronics Shop is FREE!
Custom PCB manufacturing:
Contact us for a quote! Email: terrapinworks@umd.edu with information about your project.
Top