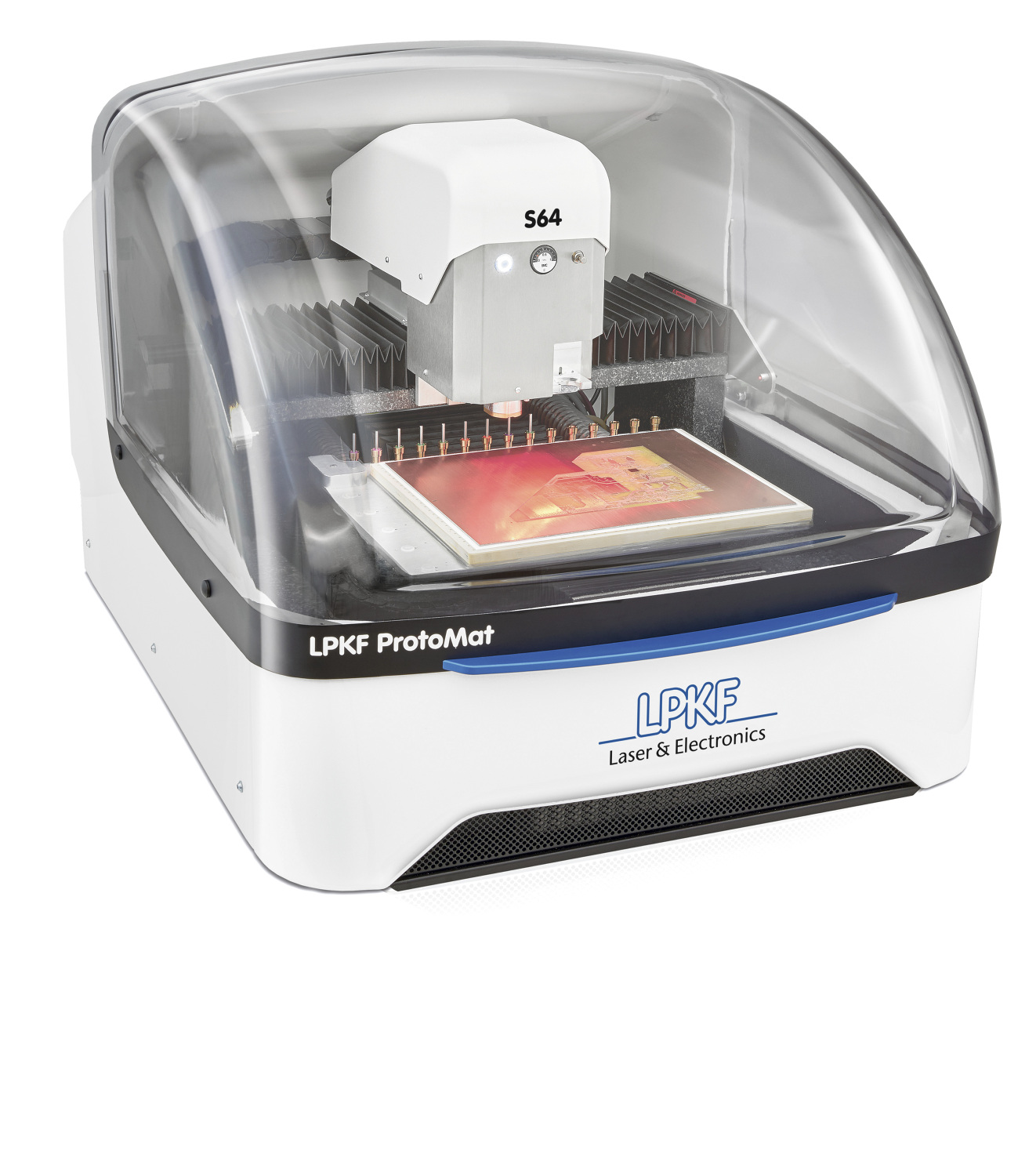 LPKF ProtoMat S64 
The ProtoMat S64 demonstrates speed and reliability, setting the standard for almost all in-house PCB prototyping applications. The high-speed of the low-maintenance milling motor guarantees production of fine structures as small as 100 μm (4 mil) and multilayer boards can be achieved when used in conjunction with a lamination press.
LPKF Contac S4 
Reliable through-hole plating is key to the success of the challenging PCB prototyping process. The LPKF Contac S4 enables robust electro plating in one compact safety housing. The board is passed through separate tanks for cleaning, activation and copper plating. This yields reliable copper layers on the surfaces of all existing vias, even in multilayer boards.
LPKF Multipress S
A bench-top multilayer press, ideal for creating multilayer circuit boards in a laboratory of prototyping environment.
LPKF ProtoPrint S
The LPKF ProtoPrint S is a precision manual stencil printer. This tabletop model can be used for prototypes and for small batches of fine pitch SMT boards. Precise vertical separation between stencil and circuit board is guaranteed to meet the specifications of contact printing, as small as 0.3mm (12 mil) pitch (ultra-fine-pitch area).
LPKF ProtoFlow S N2
The ProtoFlow S N2 is LPKF's premiere convection oven, ideal for lead-free reflow soldering, meeting the stringent demands of rapid PCB soldering applications. The ProtoFlow S N2 features even heat distribution, easy programming, and many pre-defined temperature profiles. The compact design and efficient power consumption make it one of the most useful components in any rapid PCB prototyping environment.
LPKF ProtoPlace S
The LPKF ProtoPlace S is an ergonomically designed, semi-automatic pick & place system for the professional assembly of SMT printed circuit board prototypes and small batch projects. The ProtoPlace S quickly assembles SMT boards, with the user controlling each step of the assembly process through an LCD display. Most functions are easily executed from an interface panel with four directional arrows.
Top