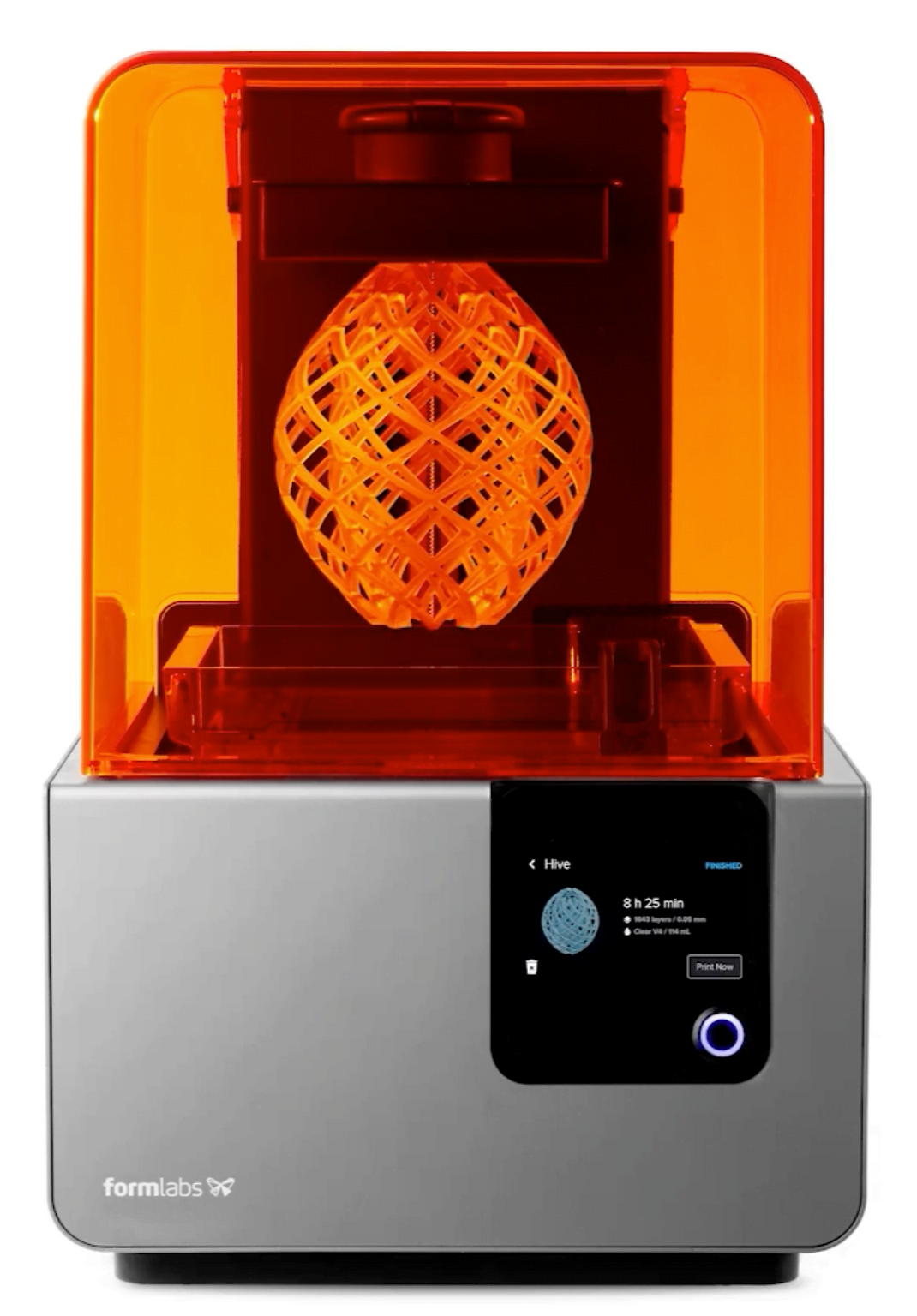 The Form 2 delivers high-resolution parts at a reasonable cost and lead time. A vast range of resin options ensure that a part can be printed in a material that makes the most sense for any given application, and without much wasted time or cost in the material changeover process. This machine delivers an excellent and competitive middle ground between consumer-grade plastic deposition style 3D printing and industrial polyjet or jet-fusion 3D printers.
Build Volume:
145mm (L) × 145mm (W) × 175mm (H)
Detailed Materials:
Standard Resins:
Standard resins offer great visual quality for relatively run-of-the-mill parts that don't have rigorous mechanical requirements.
| Name | Layer Height (microns) | Cost | Description |
| --- | --- | --- | --- |
| Draft V1 | 300 | $$ | Draft Resin prints up to four times faster than Formlabs standard materials, making it ideal for initial prototypes and rapid iterations to help bring products to market faster. |
| Clear V4 | 150, 50, 25 | $ | Clear Resin polishes to near optical transparency, making it ideal for showcasing internal features. |
| Black V4 | 150, 50, 25 | $ | Black Resin's opaque matte finish rivals the look of injection-molded plastics, capable of producing incredible looks-like prototypes |
| Grey V4 | 150, 50, 25 | $$ | Grey Resin has a smooth, matte finish and shows details beautifully without primer |
| White V4 | 100, 50 | $$ | White Resin emphasizes fine details and has a matte finish with a warm, slightly ivory color. |
Engineering Resins:
Engineering resins offer various mechanical properties depending on the desired application of a part.
There are specific resins for applications that require:
rubber-like flexibility
high temperature resistance
high strength
increased rigidity
| Name | Layer Height (microns) | Cost | Description |
| --- | --- | --- | --- |
| Elastic 50A V1 | 100, 50, 25 | $$$ | Elastic is the softest Engineering Resin, this 50A Shore durometer material is suitable for prototyping parts normally produced with silicone. Choose Elastic 50A Resin for parts that will bend, stretch, compress, and hold up to repeated cycles without tearing. |
| Flexible 80A V1 | 100, 50 | $$$ | Flexible 80A Resin is an elastomeric resin designed to print stiff, flexible parts that simulate the flexibility of rubber. |
| High Temp V2 | 100, 50, 25 | $$$ | High Temp is ideal for applications requiring the part to stand up to high temperatures with minimal loading. The material has almost no flex, however, so snap fits and living hinges are not suited for printing with High Temp Resin. |
| Tough V5 (EOL) | 100, 50 | $$ | Tough 2000 Resin simulates both the feel and important mechanical properties of Acrylonitrile Butadiene Styrene (ABS) plastic. ABS is a very common thermoplastic that provides a good balance of strength and flexibility. Tough 2000 Resin creates strong engineering prototypes and has been developed to withstand high stress and strain. For further finishing, Tough 2000 Resin can also be machined once printed. |
| Durable V2 | 100, 50 | $$ | Durable Resin is impact resistant and highly wear resistant, capable of extreme deformation before breaking, and has low friction compared to standard resins and Tough 2000 Resin. Use Durable to prototype parts that will eventually be made from polypropylene (PP) or high density polyethylene (HDPE). It is best used when these features are required in a room-temperature application. |
| Rigid 4000 V1 | 100, 50 | $$ | Rigid 4000 Resin is an Engineering Resin designed for stiffness and precision. The material is reinforced with glass to offer a very high modulus and a polished finish. Rigid 4000 Resin is highly resistant to deformation over time. The glass-powder reinforcement enables Rigid 4000 Resin to be stiff relative to other Formlabs materials. |
Specialty Resins:
Specialty resins offer solutions for specific workflows that are somewhat uncommon.
Name
Layer Height (microns)
Cost
Description
Castable V2

 

100, 50, 25
$$$$
Use Formlabs Castable Resin to produce detailed fine jewelry through the investment casting process. Developed specifically with investment casting in mind, Castable Resin burns out cleanly with no ash or residue.
Dental LT Clear V1
100
$$$
Designed for hard splints and retainers with high resistance to fracture and wear. Class IIa biocompatible. 

Terrapin Works cannot guarantee any level of biocompatibility with parts made in our labs.

Ceramic V1
100, 50
$$$
Ceramic Resin is a unique material in the Formlabs library. Ceramic is a composite resin engineered for the Form 2. Ceramic is intended to be fired in a kiln or furnace, where the polymer matrix burns away and the model transforms into a silica ceramic part. By 3D printing with Ceramic Resin, you can create complex ceramic objects that would be impossible to cast.
Top